Painting Pathways Clubhouse was featured in the Herald Times Reporter on May 24, 2018.
Click Here to read the article on the HTR Website.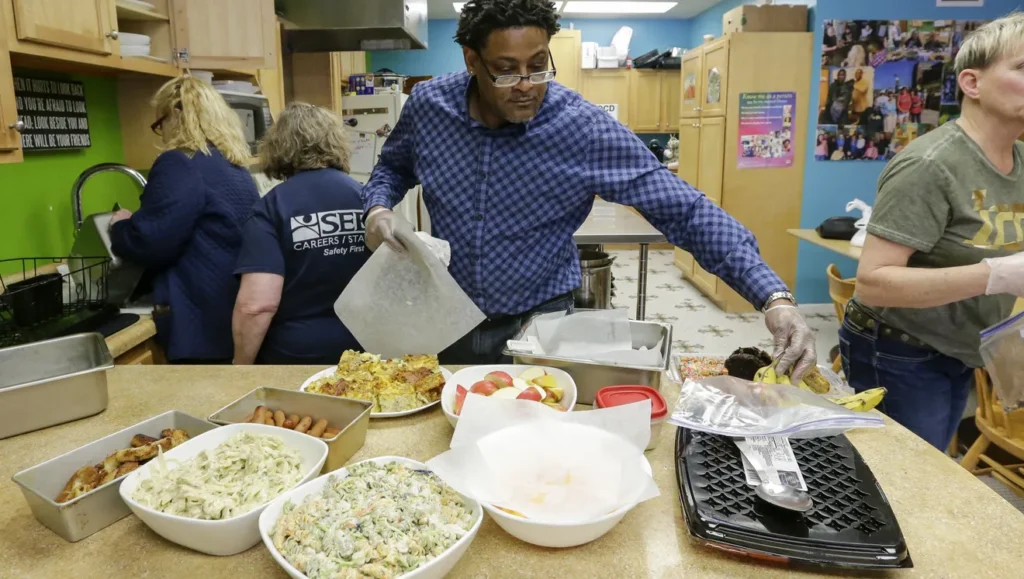 MANITOWOC – About a decade ago, Carla Lesperance's sister read about Painting Pathways, a space for adults with mental health issues, in the newspaper.
"I think this is the place for you," Lesperance recalled her sister saying. "She brought me here, and the adventure started."
Lesperance is bipolar, suffers from post-traumatic syndrome and anxiety, and would often spend days isolated in her home. Before discovering Painting Pathways, she tried to make friends, but said her pharmacist and doctors usually were her only human contact.
"You know they equally have the same issues, or similar, as you at the clubhouse," Lesperance said. "You have the opportunity to break the ice. We're like a little family here."
Painting Pathways Clubhouse is a recovery-based program for adults with diagnosed mental health issues. More than 320 clubhouses operate throughout the world, five in Wisconsin. Manitowoc's clubhouse, 1226 Washington St., is one of four in Wisconsin accredited by the international program. Each clubhouse must uphold 37 standards to be accredited.
"We truly are a gem in the community that people don't know about," said Executive Director Jennifer Schmoldt.
The clubhouse will be 10 years old in September and has 110 members, with about 27 to 33 visiting the site daily.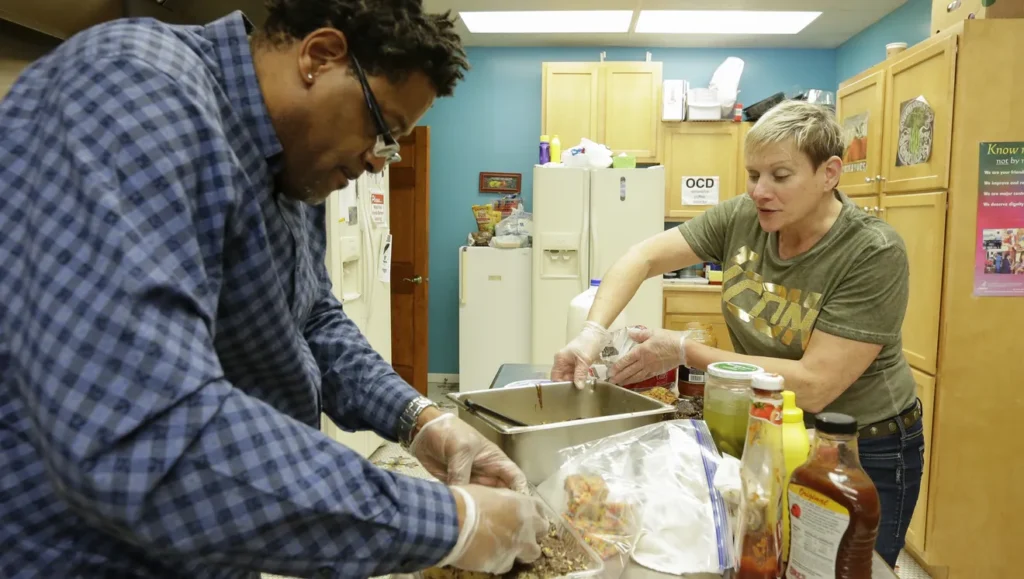 Painting Pathways runs on donations and grants, and does not receive federal or state funding or bill insurance. Members mostly are referred to the clubhouse by a doctor or care providers. It's not a counseling service, so members must have a diagnosed mental health issue and be working with a therapist or counselor. It's a work-based program, so the clubhouse works to help members find jobs, or they have duties in the clubhouse to keep it running. With only three full-time staff members, Painting Pathways relies on members to do everything from answering phones to cleaning toilets.
On a recent Thursday, members worked on the kitchen preparing the group lunch, spooning salad into bowls, heating up hot dogs and mozzarella sticks, and organizing desserts for fellow members. Another group worked on sewing together a quilt to be hung in the window to recognize May as Mental Health Awareness Month.
"This gives members a sense of belonging," Schmoldt said. "It's a safe place where people feel at ease, because other members have the same issues and can support each other, or might know of strategies that they have used. There's a human need to know you matter, that you are needed in this world. As people begin to blossom and believe in themselves, the sky is the limit."
Isolation can be a big part of mental illness, she noted, so the clubhouse works to bring members to the optimal level of social contact and work accomplishment. Staff also work with members to achieve transitional employment for them, as well as reaching out to employers in the area to help find jobs for members.
The clubhouse also provides some job training, and houses a food pantry and free clothing closet for members in need. And, Painting Pathways hosts holiday dinners for members to celebrate together.
The concept started in the late 1940s, when a big de-institutionalization movement began moving patients out of institutions, which were viewed as inhumane, but left many without services. A group of men started meeting on church steps, calling their informal group "We Are Not Alone." Schmoldt said the men gathered to offer support and to share ideas about jobs, services and housing. From there, the first clubhouse was born in New York, and the idea spread from there.
Manitowoc's clubhouse grew from an idea Nancy Randolph, co-director of Children and Family Services for Manitowoc County, had to bring a service for mental illness to the area.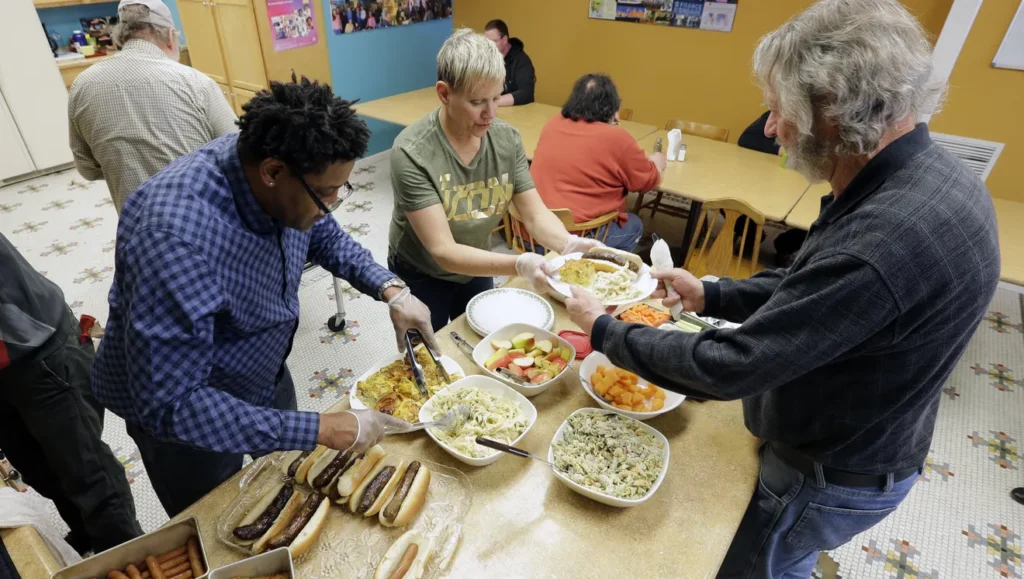 "I read an article in the early 2000s about a program and thought we needed something like that here," she said. "Working with people with mental illness, I see that other than their doctor our counselor, we really don't have anything else for them here. And they really need that."
She kicked around several ideas and applied for several grants before Painting Pathways was born.
"We really are so lucky to have something like this in our community," Randolph said. "It serves a big need."
Like most people with mental illness, Lesperance has good days and bad. She used to visit the clubhouse every day it was open, but now comes once or twice a week. And there are weeks she doesn't come at all.
"Depression takes over," she shared. "It's been a sad time in my life, and I have had medication issues. That can profoundly change you. But when and if you are having problems, we are always here for each other. People who are strong when you are weak, we tend to cycle like that."
But Schmoldt trusts her and has confidence in the long-time member, who serves as clubhouse accountant. "We go to the bank and if the numbers match, we go 'woo-hoo!' It's baby victories," Lesperance said. "You don't always have them, but it's great if you can do this for today, for the moment."
The clubhouse is open from 8 a.m. to 4 p.m. weekdays, plus 4-6 p.m. Thursdays for social time. Members also volunteer at a number of community activities to raise awareness about the organization, as well as help run a number of fund-raisers for the clubhouse, including the July 31 Painting Pathways golf outing. This is not a counseling service or activity center, but a work environment, Schmoldt said, which can be a difficult concept for some to understand.
Members offer one another much support, and if someone hasn't shown up at the clubhouse for a while, members or staff will call or reach out to make sure they are OK.
"The sense of belonging is unbelievable," Schmoldt said. "But it really is hard to describe unless you come experience it for yourself."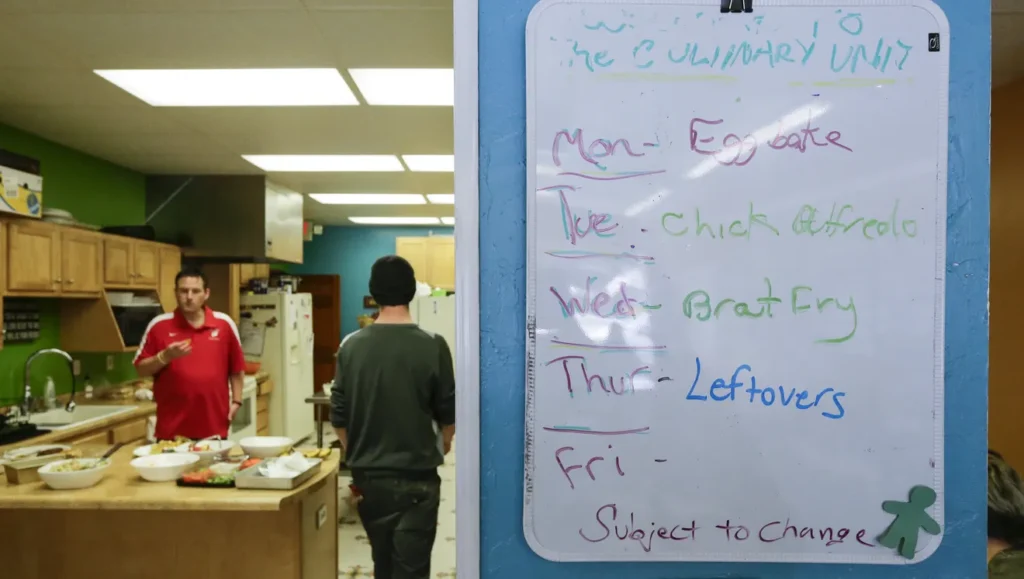 Al Betts has lived in Manitowoc for about five years, started out living in a shelter, where he heard about Painting Pathways.
"I'm used to being around people, but in the background, but not in the midst of things like here," Betts said. He traveled around training horses in the past, traveling from state to state before moving to Madison. He was diagnosed with manic depression and anxiety in 2012.
"Everyone here had to be a diagnosed with a mental illness," he said. "I have issues, and this is not like a business-run idea, staff not considered the boss or the executive or the clerk, everyone is equal."
He was very active in helping cook his fellow Painting Pathways members lunch.
"When you come, they ask you 'What you are interested in?'" Betts said. "When you come from a big family, you do a lot of cooking, and I like to cook."
In fact, they sent him to Lakeshore Technical College to become certified, so when the clubhouse mans a brat fry or another event that requires a certified cook, he fits the bill.
"That made me feel accepted, that they could see the truth and passion inside of me," Betts said. "I can see it in other people now, and you can help people with no expectations. It becomes like family members. That's the way I see all the people, like family members. Those who are younger than me, I call them nieces or nephews, the staff members as sisters. We are that close."
This story is part of the Making Manitowoc series of stories that highlight the people, places and things that make the Manitowoc region one of a kind. If you know of an interesting person, place or thing made in Manitowoc County that you think could be featured, contact Patti Zarling at [email protected], by phone at 920-686-2152 or on Twitter at @PGPattiZarling.